DeepEn on the road for the first time at a major trade show!
After a long resting period due to the global pandemic, the world's biggest trade fair of the medical industry, MEDICA, was held again in Düsseldorf from November 14-17, 2022. With 17 giant exhibition halls, over 5,000 exhibitors from 70 countries, and more than 120,000 visitors, MEDICA is the premier platform for showcasing the latest medical technology, products, and services. The fair brings together healthcare professionals, researchers, medical technology manufacturers, and distributors to exchange ideas, network, and explore the latest advancements in medical technology.
And DeepEn was right in the middle of it all.
Our startup joined a shared booth of the German States of Saxony-Anhalt and Thuringia under the common slogan "Research for the Future." It was a great setup, as we got to connect with colleagues from our own local ecosystem, such as Blink-DX, Leibniz Health Technologies, and InfectoGnostics Research Campus. Also, two other young innovative companies, Nanotubetec from Leipzig and Biophotonics Diagnostics GmbH from Jena, were present as well. As a result, interesting conversations never stopped.
To attract visitors' interest to our part of the booth, the DeepEn team was prepared with flyers and a large roll-up, as well as a 3D printed miniature version of our deep-brain imaging system, NeuroDeep. The preparation paid off since a good number of interested MEDICA visitors came around to discuss medical applications of the hair-thin, holographic endoscopes in fields beyond neuroscience.
We also took the initiative and ventured out from our base, armed with a single-fiber-probe and a tablet with demonstration videos. The plan was to show the capabilities of holographic endoscopes for subcellular and macroscopic imaging to other endoscope manufacturers, to spark a discussion and learn more about the industry. The spontaneous reaction of the MedTech representatives was often disbelief as they wondered how it is physically possible to use a single multimode fiber as an imaging probe. Indeed, there is no other product on the market yet that can apply the innovative technology we are utilizing. In the end, we had several fruitful exchanges, brainstorming further potential use cases in medicine and possibilities for future partnerships.
After several hours on a tour through the different halls of the MEDICA trade fair, we were physically exhausted but also left with a much better feeling for how established industry players do things.
If you are interested in minimally invasive intravital endoscopic imaging for examination of sensitive tissues, especially for imaging of neuronal connectivity in deep brain regions, we invite you to get in touch!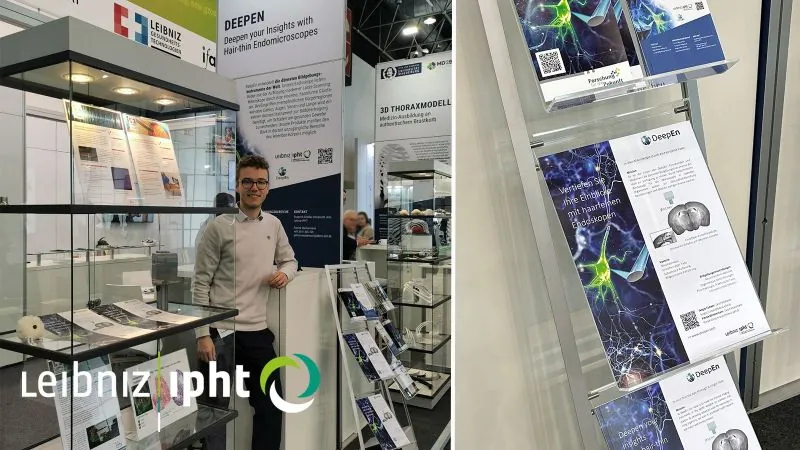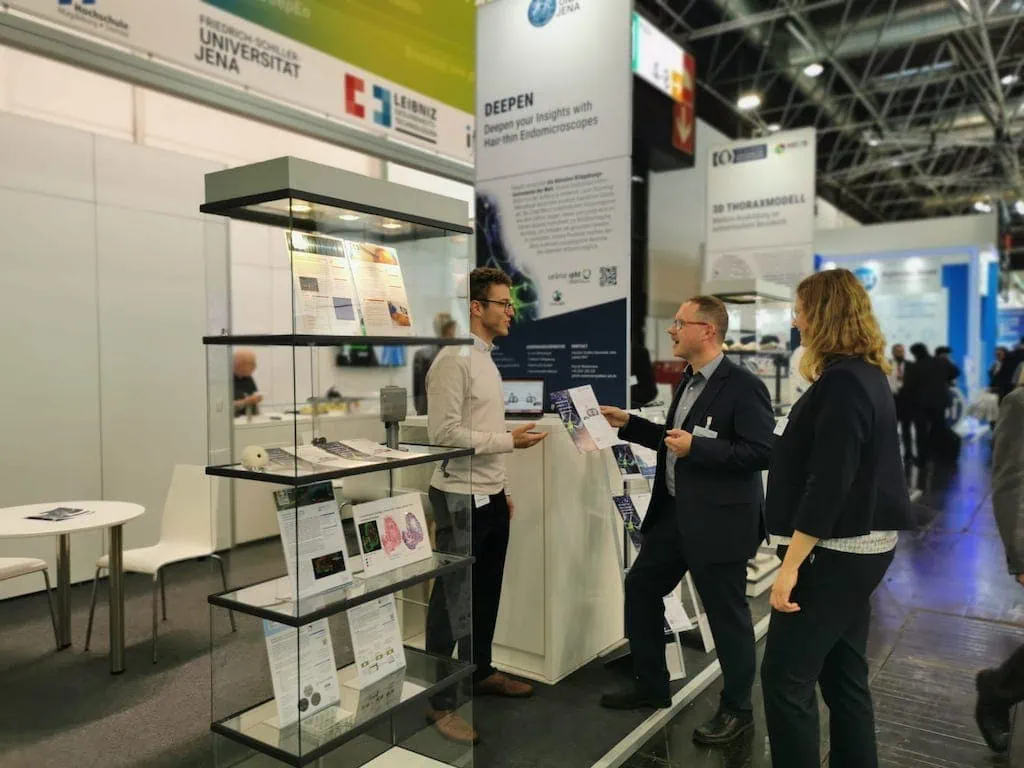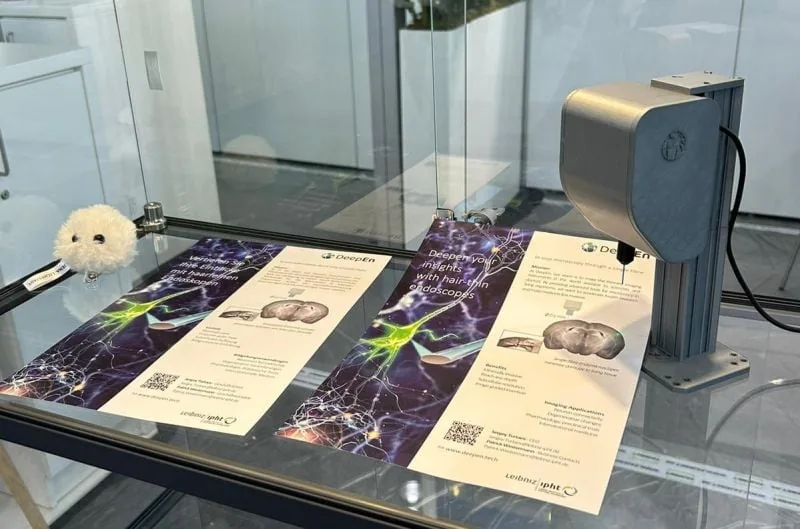 Contact
Do you have any questions about hairthin endoscopy? Just send us an email and we will get back to you! Feel free to contact us also by phone or write us a message via the contact form:
By clicking on the "Send" button, you submit personal data to us and consent to the processing of your data in accordance with our privacy policy.